With our backup service, we do an On-Site backup of your files to your external hard drive. This will save you the time and aggravation of data loss if you have a system crash. Don't have an external hard drive? We can provide you one for an additional cost or you can purchase one from most electronics retail stores. We will complete the service by setting up an automatic backup timeline in conjunction with your external hard drive at your request.

You can schedule our Backup Service online by choosing Data Backup or call us at

(708) 859-1472

or email us at gpc@gpcuztomz.com

Pickup options also available

"Back Up And Restore Keys" by Stuart Miles
If you do not own your own external drive. You can have GPcuztomz provide you one for additional cost or you can purches a external drive from almost any electronic retail store.
---
When you are looking for an external hard drive here are a few things to consider:
Size - How much data you can store. Most people range from 50GB to 100GB worth of data. However, if you have a lot of videos, music, or pictures, you may want to consider a larger size such as 500GB to 1TB (1024GB). This is based on previous services only. To find a more accurate size amount, we suggest scheduling a Checkup appointment.
Software - Some brands may come with their own setup software to be configured as an auto backup. This means that you don't need to worry about backing your data up manually.
Portability - Desktop drives are stationary and require a power source as well as a USB cable. Whereas, portable drives are smaller and only require a USB cable for power.
Speed - The speed of an external hard drive is stated as a numerical value. If you have a compatible port, a USB 3.0 can transfer information up to 10x faster than a USB 2.0. These drives are also backwards compatible; meaning that you can use a USB 3.0 on a 2.0 port and vice versa.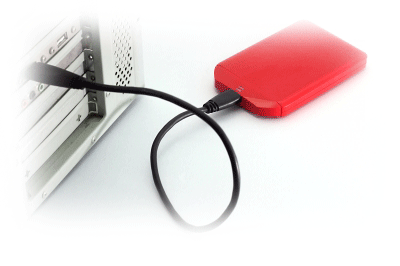 "External Hard Drive" by Napong
For ANY qustions you might have, you can email us at gpc@gpcuztomz.com or call
(708) 859-1472